Fancy a job as Shift Team Leader?
This is what your day will look like:
You lead production teams comprised of production workers and ensure proper set up of production lines, implementation of quality requirements and proper product delivery. 
You work as a part of the production team by performing quality control checks, moving product into and out of the work area, and by assisting the production team when needed.
You are responsible for caring out metal detector checks as per written procedure.
You plan and assign work to shift employees. You keep workers supplied with work and supply the necessary to complete work tasks.

You ensure production in an effective way to ensure that production goals are met:

Minimize waste

Maximize output

In compliance with quality guidelines

In compliance with safety laws and company safety policies and procedures.

In compliance with the procedures, specifications and GMP

As a staff member, you are responsible for safety of those workers in his/her work area via implementation of the safety procedures and policies of the organization. You investigate and report findings of accidents to the immediate supervisor and the Production Manager.

You enforce that hygiene and GMP standards are met and at the same time you create a satisfying and fulfilling work environment.

You assist in the training of production employees in cooperation with the Production and Quality Manager to enhance the employees' spectrum of capabilities and the support of their performance.

You inform the Production Manager and Maintenance of any malfunction in machinery and any other equipment.

You report all risks and or threats in relation with staff, machines, procedures or premises.

You do other tasks as requested and defined by your supervisor or manager.
This is what we expect from you:
You have a minimum of a high school diploma or its equivalent;

You have the ability to apply principles of logical thinking of a wide range of practical problems, together with the ability to deal with a variety of abstract or concrete variables;

You have knowledge of Microsoft software (Office);

You have a hands on personality;

You are goal and task oriented;

You are a people manager.
This is what you get in return:
Together with your colleagues, you will participate in our Sweet Adventure growth trajectory, allowing both you and our organisation to grow.
You will join a warm organisation with great colleagues, where you can enjoy the sweet smell of biscuits every day.
Every day you work on The Sweet Adventure so that everyone in the world can enjoy our delicious products.
A wonderful adventure!
Apply for Shift Team Leader!
Eager to work with us? Then apply quickly using the form below!
Tasty testimonials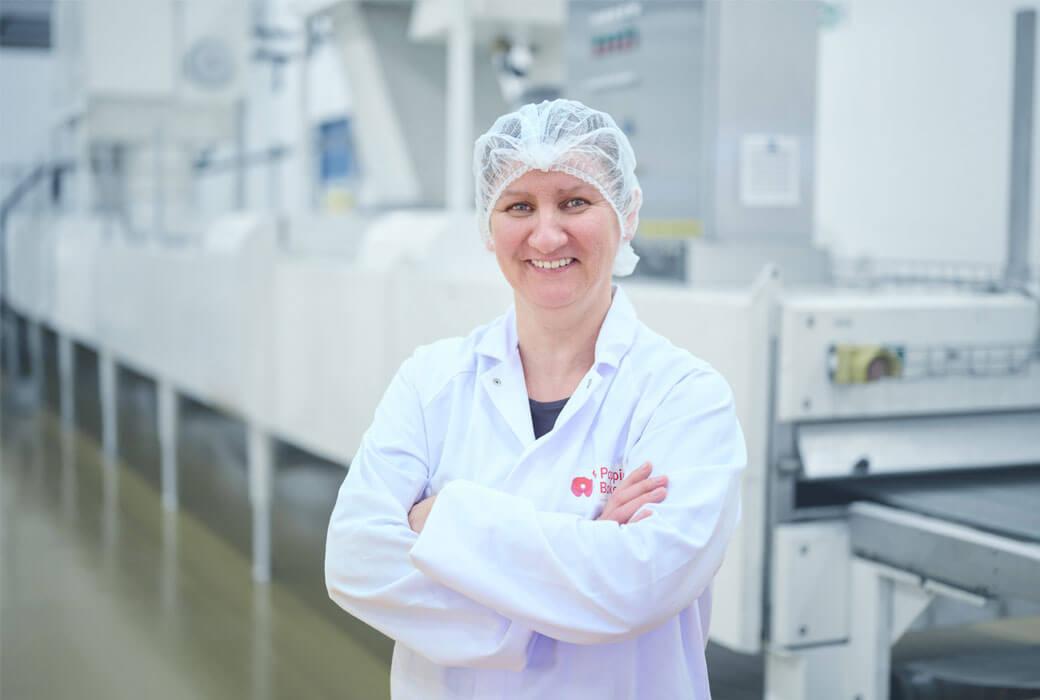 I've been working as a production line worker for 18 years, first at d'Haubry and then at Poppies Bakeries after the takeover. Laughter and chatting in the workplace are not frowned on, which I very much appreciate. Being able to make people happy with a biscuit makes me happy too. Back in the day, there were only 4 of us working at d'Haubry. Since then, our production environment has evolved and been automated a great deal since then, giving me the opportunity to evolve over the years too!
Petra Vandenberghe, operator
Get in touch
Poppies Bakeries Rocky Mount  
6610 Corporation Parkway 
Battleboro, NC 27809 (USA) 
Tel: (252) 442-4016 
Email: HR@poppies.us